Once December comes around, every employee will be counting down the days to the annual Christmas party. They're a staple fixture in traditional office settings, but you can still celebrate the festive season in style if you're operating digitally.
Is this your first time hosting a virtual holiday party? Perhaps you're looking for unusual Christmas party games to treat your teams to. Read on for an indispensable list of great virtual Christmas party games to play with coworkers this holiday season.
Why Are Virtual Holiday Parties Important?
Virtual meetings are essential for productive online teams. However, you need to think beyond the functional if you want to boost morale and nurture a happy, valued network of remote professionals. When planning a virtual party, you have plenty of annual holidays to choose from. However, it's those Christmas parties that most people look forward to the most.
A virtual holiday party is a great excuse for hard-working employees to let their hair down. What's more, they give you the perfect platform for letting your teams know how well they've performed.
They're also useful for team building and keeping remote employees connected. Outside of weekly meetings and email chains, a dispersed team is unlikely to be keeping in touch. While your operation might be lacking in water cooler moments now you've made the move to the online sphere, you can nurture a culture of togetherness by going all out come the holidays.

Of course, you'll want your festive get-together to stand out from all those other annual events. The easiest way to do this is assemble an unmissable list of holiday party games everyone will want to get involved with.
10 Virtual Christmas Games
Searching for some virtual Christmas party ideas? While some traditional office party games can be carried over from the real world, you'll have to think outside the box when putting together the perfect plan for your virtual get-together.
1. Complete This Grinch Phrase
There's no shortage of Christmas-themed characters, but few of them have as many memorable one-liners as the Grinch. Most of your team should be familiar with this iconic creation from Dr. Seuss, so why not base a Christmas game on this green-furred family favorite? Pull some famous lines from How the Grinch Stole Christmas and see how many of your team can finish the quote.
2. Christmas Song Emoji Quiz
There are thousands of festive singles and Christmas song classics out there, with more hitting the charts every year. For a fresh twist on music trivia, why not treat your team to a music emoji game? One participant will need to create the name of a popular song in emoji form, with everyone else tasked with deciphering the title.
3. Christmas Carol and Song Trivia
With so much Christmas music out there, you can frame a heap of different games around them. Virtual quizzes always go down well. Task participants with guessing the release year, chart position, or songwriter of a particular Christmas tune. If you want to level the playing field a little, think about making this a multiple answer game instead.
4. Ugly Sweater Competition
Most of us can probably find a few hideous Christmas sweaters in our closets. In the United States and many other countries, there's even an annual date to celebrate these festive fashion disasters. National Ugly Christmas Sweater Day typically falls on the third Friday of every December. However, even if your virtual event date doesn't align, you can still host your own version of this classic holiday game.
5. Gifts Word Cloud
If you're getting together online for a virtual Christmas party, why not use collaboration tools like word clouds for some festive fun? Perfect if you're planning a Secret Santa gift exchange, a word cloud can be a great way to give colleagues some gift-giving inspiration. Alternatively, put a twist on things and get everyone to name the worst present they've ever received.
6. Winter Minute to Win It
Make things more interesting with a virtual version of the Minute to Win It Game. These 60-second challenges are a great idea if you're looking to make your event as action-packed as possible. A minute-long scavenger hunt is a good one, but you'll have to compile a list of winter or Christmas-themed items first. Stick to easy-to-find things like candy canes, Christmas tree ornaments, and eggnog.
7. Never Have I Ever
If this is your first virtual holiday party with remote employees, you'll want to include a few icebreaker games. Never Have I Ever is a particularly good idea and is great for bringing a touch of mischief to those festive get-togethers. Use this game to sniff out the regifters in your midst or who has a habit of indulging in one too many mulled wines on Christmas morning.
8. Festive Movie Quote Trivia
As with music, there are plenty of holiday movies out there. Most of us probably watch the same handful of festive classics every December. A Christmas trivia quote game is ideal for bringing some friendly competition to your virtual event if you're short on holiday party ideas. Pick quotes from Christmas movie favorites and get participants to buzz in if they know which movie the line is from. Think about awarding extra points if they can name the character who said it.
9. Christmas Stories Booth
This is another nifty way of breaking the ice with remote teams. Ask participants to share their most treasured festive memories, or a shameless story about a Christmas mishap they'd rather forget.
10. Santa Machine
Find out who can do the best impression of Jolly Old Saint Nick with the Santa Machine game. Simply spin the reels and a participant will be chosen at random. They'll then get 20 seconds to deliver their best Santa impression. Perfect for wrapping up a virtual holiday event in style.
FAQs
What makes a virtual holiday party unique?
While Christmas classics like Secret Santa are a staple of pretty much every festive party, there's a lot you can do to make your event as unique as possible. Along with the usual favorites, make sure you're including plenty of new games that most people won't have encountered before. You should also focus on making your event as collaborative as possible, with team-based games to help break the ice and get your teams socializing. Do any of your planned activities require specific props or accessories? Why not include this in holiday gift boxes you can send out to employees as a thank you for their efforts.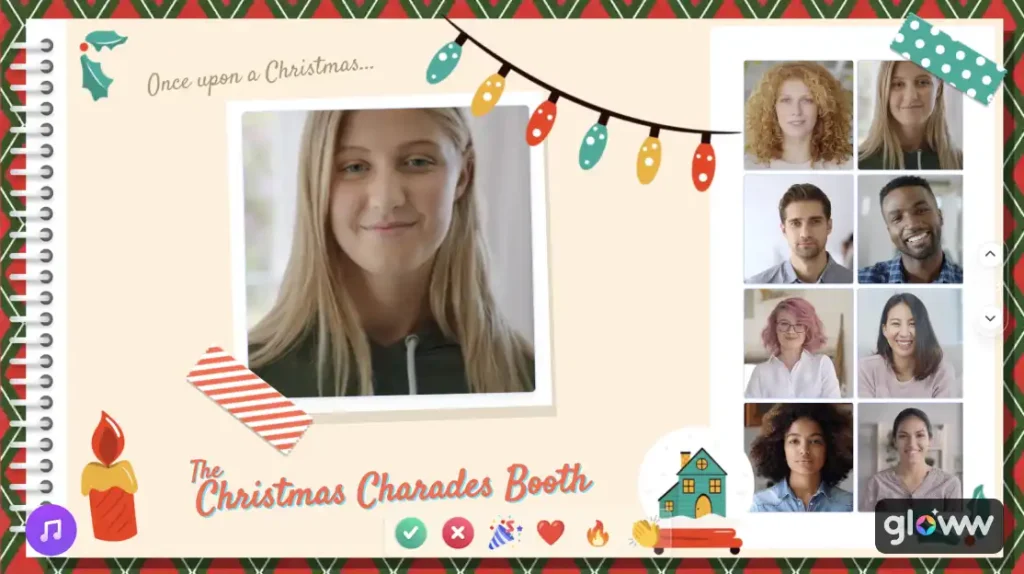 What are the benefits of Using Gloww for Virtual Christmas Games?
With Gloww, you have all the tools you need to create a virtual Christmas party that employees will be talking about all year. You can use existing templates to make your life easier, or customize each session to make your event truly unique. Add live buzzers to make question rounds more interesting or put your employees on the spot with randomizers. Along with a full suite of festive games and collaborative features, Gloww's incredibly accessible platform means you'll have no trouble connecting with your entire workforce.
Get Virtual Holiday Party Planning Underway with Gloww
Whether it's your first foray into online events or the latest in a long line of successful virtual events, host your next Christmas party with Gloww. You can use ready-made templates to create a festive event in moments. Alternatively, create a virtual holiday session that's unique to you. It's easy to customize your event with seasonal backgrounds, festive colors, and classic Christmas music. What's more, with Gloww, you never have to worry about keeping everyone entertained. With a host of interactive features and festive games to choose from, hosting a virtual holiday event couldn't be simpler.
Need more holiday and event ideas? Check out Halloween party ideas, Independence day activities, and Thanksgiving team fun fest as well.
If you're eager to start planning your event, you can get started with Gloww today. Would you like to learn more about Gloww's advanced features? Be sure to check out our pricing plans. If you still have questions about the platform and what it can do for you, get in touch with the team today.