There are many ways to bring together your remote teams for some much-needed socializing. The good news is you don't have to wait until the end of the year and the holiday season to get things started. Once October rolls around, you can start planning a virtual Halloween party. Making the move from offline to online can seem challenging, but there are plenty of virtual Halloween games for work events you can consider. Need some inspiration? We've got you covered.
How Can You Celebrate Halloween Virtually?
Your employees don't have to be in the same country, let alone the same room, to celebrate the spooky season with a Halloween-themed office party. If you're keen to boost employee engagement and encourage your remote teams to blow off some steam this October, a virtual Halloween celebration is the way to go.
Provided everyone has access to a reliable internet connection and a little free time in their schedule, hosting a spooktacular event couldn't be easier.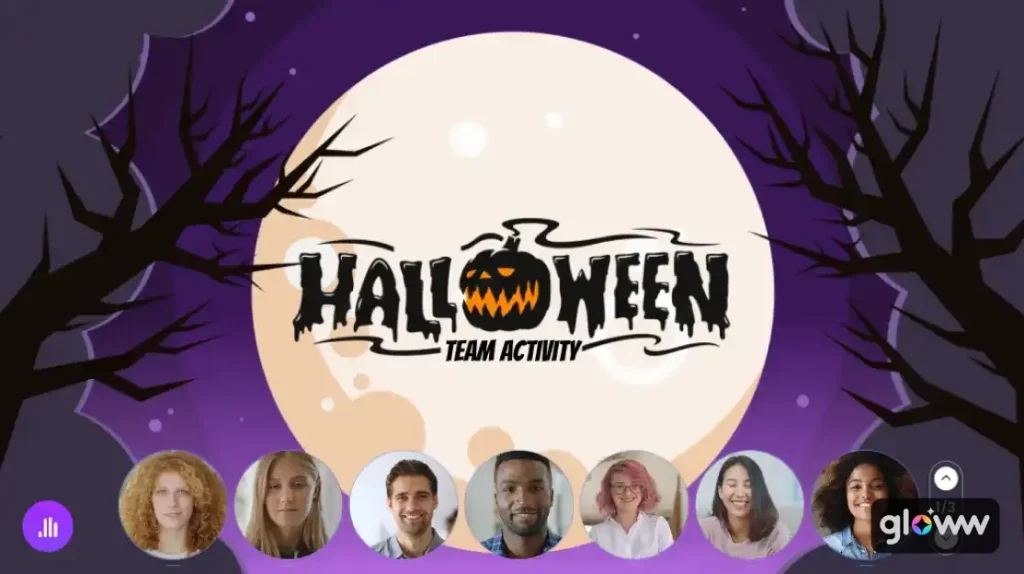 Benefits of Celebrating Virtual Halloween with Coworkers
Halloween doesn't get the love it deserves outside of North America. However, this annual celebration is the perfect time for remote employees to let their hair down and connect with colleagues. Unlike Thanksgiving and Christmas, your employees are probably less swamped with shopping lists and festive plans. While you'll probably struggle to secure maximum attendance in November and December, you'll have no such trouble in October.
If your company is dabbling with remote work for the first time, bringing together a dispersed virtual team is important for employee morale. As well as letting your staff know you care about them, a spooky Halloween get-together packed with great games and virtual team-building activities is an effective way of breaking down barriers.
How Do You Host a Virtual Halloween Party?
Putting together an online Halloween party to remember takes a little planning. If it's your first time hosting a virtual event, you'll need to familiarize yourself with the hosting platform you're looking to use and run a couple of technical checks to ensure everything goes without a hitch.
More importantly, you'll need to put together an exciting lineup of virtual Halloween games and activities. You can keep things simple with a spine-tingling horror movie night and Halloween icebreaker questions, or spice things up with a virtual costume contest. If you're struggling to come up with Halloween party ideas, you can even test the waters by reaching out to your employees ahead of time to ask for their input.
8 Fun Virtual Halloween Ideas For Your Remote Employees
Ready to start planning those Halloween parties? Read on for some great Halloween activities that will keep everyone entertained.
1. Ghoulish Guess Who?
Here's a grisly twist on an old classic that's perfect for a fun virtual Halloween event. Pick one person to ask the questions, while everyone gets the name of a famous horror movie monster or real-life serial killer. The asker then has a select number of questions to uncover their true identity.
2. Spooky Spot the Difference
Spot the Difference games are a great way of putting everyone's gray matter through its paces. To get everyone in the Halloween spirit, pick an iconic scene from a famous horror movie or haunted location, adding a couple of minor differences that only the most eagle-eyed will be able to spot. Players can buzz in once they've honed in on the clue or annotate the on-screen image instead.
3. Name That Scary Tune
Whether it's a snippet from a celebrated horror flick or a soundbite from a spine-tingling classic, this game is ideal for virtual Halloween parties. It's also handy if you're looking to spice up your Halloween entertainment with some multimedia assets. Players can compete individually or work together as part of a team.
4. Halloween Trivia Quiz
Trivia quizzes always work well virtually. If you're stuck for Halloween ideas, you have plenty of material to draw from when compiling a killer trivia quiz. Frame your Halloween-themed trivia questions around famous ghost stories, skin-crawling creatures, and R-rated movies. Participants can play Halloween trivia individually or form teams. Just make sure you're keeping track of those trivia night scores with a leaderboard so you can dish out prizes at the end.
5. Guess the Scary Movie
Again, there's plenty of scope here. Tease those Halloween teams with trivia tidbits or throw out famous lines of dialogue. Alternatively, turn to the emoji game for a fresh twist on this classic party game.
6. Virtual Halloween Costume Contest
Everyone loves getting dressed up for Halloween. Just because you're meeting virtually, doesn't mean this staple of the Halloween office party needs to get left behind. Keep it broad and let everyone surprise each other with DIY costumes or set a specific theme. To encourage everyone to participate, let it be known that there will be a prize for the winner of your virtual costume contest. If one of your employees goes all out during the spooky season and decks the halls, ask them to treat everyone else to a virtual haunted house tour.
7. Virtual Halloween Scavenger Hunt
Organizing trick or treat online can be a challenge, but you can still bring a Halloween-inspired virtual scavenger hunt into play. Draft up a list of seasonal items like Jack-o-lanterns, plastic spiders, and other ghoulish goodies. Then, draw up a Halloween bingo card. The first player to return to their desk with the item you've called out earns a point. Another option for a fun Halloween is to make your scavenger hunt exclusively digital. Ask participants to head online to find the best horror movie clips or jumpscare snippets from YouTube.
8. Virtual Pumpkin Carving Contest
Pumpkins are easy enough to come by in October. If you want to raise some smiles, make a pumpkin carving contest a key part of your spooky virtual get-together. Some players are going to be better than others, but you can level the playing field by getting specific with your carving requests. Alternatively, organize a virtual pumpkin decorating contest instead.
FAQs
Can you still dress up for a virtual Halloween celebration?
Dressing up is an important part of any Halloween party. However, if you want your teams to arrive at a virtual event decked out in their finest costumes, make sure you're giving everyone enough notice to head out and pick some essentials. Even the most shy and retiring members of your team will enter into the spirit if you're also hosting a Halloween happy hour.
What are some fun things to do on Halloween?
When it comes to virtual Halloween ideas, the options are endless. Think about hosting a Halloween candy pairing session or organizing a virtual tarot card reading. If you'd rather keep things simple, why not put a spooky twist on classic virtual games like Hangman?
How do you make a virtual Halloween party fun?
When in doubt, turn to nostalgia when coming up with Halloween party ideas. Encourage everyone to share their favorite ghost stories or recommend some must-see horror movies or true crime podcasts. Putting together a Halloween playlist is another must if you want everyone to enter into the party spirit.
Start Planning Your Virtual Halloween Party with Gloww
Just because your business is operating virtually, doesn't mean you can't host a Halloween party to remember. With Gloww, you have all the tools you need to put together an unforgettable event. Put a terrifying twist on classic trivia games, test your team's knowledge with Name That Tune, or give everyone a mental workout with a spooky spot the difference challenge. You can even bring in old favorites like the annual Halloween costume contest.
Looking for more ideas? Check out our fun Friday virtual activities, virtual team building activities, virtual happy hour ideas, and more. If you're looking for more fun templates that are holiday or event-themed, make sure to have a look at our party template for the holidays, team activity for Halloween, fun Easter template, and virtual music events!
Ready to get the ball rolling? You can start planning your next virtual Halloween party today. If you'd like to learn more about our advanced features, take a look at our pricing plans. If you still have questions about what Gloww can do for you, feel free to get in touch with the team.