Remote working has many advantages. For the employee, it's easier to maintain a healthy work-life balance. For companies, this flexible way of working tends to produce higher productivity, better staff retention and comes with considerable cost-saving benefits. Unfortunately, a lack of social interaction can present problems for remote teams.

For many remote employees, it's the lack of informal lunch meetings that are missed the most.
However, just because your business is now working online, doesn't mean you have to say goodbye to face-to-face interaction altogether. Virtual lunch events are a great way of bridging the device and can be used for all manner of team-building purposes.
If your remote teams are pining for the personal touch, a successful virtual lunch can bring the social element back into play.
How Do You Host a Virtual Lunch?
Organizing virtual lunches isn't as straightforward as letting everyone know that they're invited to an upcoming event. A remote lunch session requires careful planning, a reliable conferencing platform, and a slate of activities carefully selected to make the most of a virtual environment. Our Gloww library of interactive presentation templates is a great place to start, and especially our fun food template for fun lunch hours!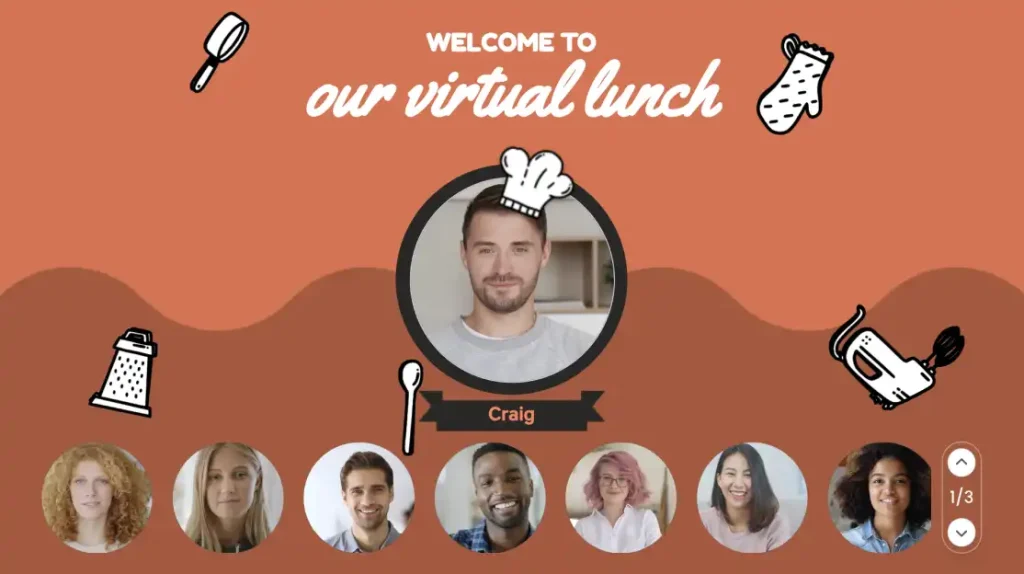 Put Someone in Charge of the Event
As with in-person events, virtual lunches don't just fall into place. For a successful event, you'll need to appoint someone to take charge. The facilitator you pick should have excellent time management skills. They'll be tasked with everything from selecting a time and date to planning activities for your online lunch session.
Once the planning has been taken care of, they'll need to send out invites and keep an eye on RSVPs.
If your company has only ever operated virtually, it might be a challenge to find the perfect person to put in charge. If no obvious candidates jump out at you, cast the net wide and as your remote teams for their pick via email. You can also use this as an opportunity to get their input regarding team lunch ideas you can incorporate into your event.
Planning on making virtual lunches a regular thing?
You can put the same person in charge every time, or rotate responsibilities. Just make sure that the first facilitator is jotting down important notes and answers to frequently asked questions that future organizers can refer to later.
How Long Should a Virtual Lunch Be?
There's no one-size-fits-all answer to this. Most lunch breaks run for around 30 minutes. However, if you've come up with plenty of topic ideas during the planning stage, you might want to pencil in a longer session.
What's more, if your virtual lunch is going to be a monthly, rather than a weekly thing, you may want to treat your remote teams to a longer lunch break to ensure that you've plenty of time for all those activities on your agenda.
Use Gloww
If you're considering a virtual happy hour or lunch meeting, you'll need a reliable conferencing platform. Gloww is the obvious choice for businesses looking to take the lunch hour online. With Gloww, you can bring together hundreds of participants, wherever they're based in the world.
The user-friendly session planner makes quick work of putting together an engaging virtual lunch meeting. You can personalize each session to your liking, with a huge range of interactive elements to choose from. Keep it simple with polls and surveys, or mix things up with collaboration tools and games.
Choose a Time That Works for Everyone
Don't assume that everyone is going to be available during their usual lunch break. Many people are attracted to remote working because of its flexibility. If you've employed at-home workers, they may be tending to other things other than eating lunch during their break.
Reach out to your teams during the planning stages to ensure preliminary meeting times are going to work for everyone. If you need to move the session back slightly to accommodate schedules, you can.
Why Choose Gloww for Your Next Virtual Lunch?
If you think that virtual lunches involve little more than a group of colleagues chowing down on a webcam, think again. With Gloww, you can turn online lunch sessions into something truly spectacular.
Want to make it a working lunch? Incorporate slide decks, webinars, and presentations into your sessions so remote teams can learn ideas as they dine. Looking to overcome the isolation factor? With Gloww, you can bring all manner of games and interactive elements into play, such as with the online team activity orange template, or team happy hour.
Amazing Remote Lunch Ideas
Ready to start planning a successful virtual lunch? Read on for just a few ways you can use Gloww to turn an online lunch hour into an enriching experience for everyone.
Word Cloud Icebreaker
Is your virtual lunch the first time that many of your remote employees will have met each other? Even if they've spoken via email, putting a face to the name can prove a little awkward. To ease things along, bring a couple of icebreaker games into play.
With Gloww's Word Cloud feature, it's easy to get everyone involved and thinking creatively, without putting anybody on the spot.
Poll Lunchtime Trivia
Here's another great way to get everyone on the same page. With Gloww, you customize your meetings with live polls and gather real-time feedback from all your attendees. If you want to keep things strictly business related, ask them about their working week.
For a more casual conversation starter, frame your questions around your favorite lunchtime recipes.
Collaborative Lunch Recipe
If you feel like getting creative, Gloww has some amazing collaboration tools you can use. With the Shared Notepad and Sticky Notes features, you can get remote workers working together as they come up with unique recipe ideas. Once you've all settled on a winning recipe, think about asking everyone to try their hand at making it at home.
Music Playlist Exchange
For many people, it's the laidback conversation and social aspect that's missing from remote working. With Gloww, you can add YouTube and music visualizer features to your sessions. Watch as people warm up each other as they talk about their favorite singers and best-loved albums.
Virtual Game Show
Once everyone's finished eating, why not have a little fun by hosting your very own virtual game show? You can add all manner of online quizzes to your Gloww session, while the Spin the Wheel feature is perfect for picking out players at random.
Virtual Lunch and Learn
Would you rather keep your lunch meeting focused on more business-critical topics? With Gloww, there's no need for screen sharing to present PowerPoint slides or videos during your lunch meeting. Simply upload your files directly to the platform. What's more, you can use Gloww's live polls and Reactions features to encourage lively debate and interaction from everyone.
FAQs
How do you make virtual team meetings more fun?
One of the simplest ways to make virtual lunch meetings more enjoyable for everyone is to provide lunch for everyone. If you're hosting an online cooking class, send out an ingredients box ahead of time. If you want to keep everyone focused on games and interactive activities, arrange food delivery from their favorite restaurants, or read our article on our virtual team building ideas.
What are some good engagement activities for remote workers?
Virtual lunch meetings are one of the best ways you can engage remote workers. However, these alone aren't going to motivate shy and retiring types. Make sure you're filling the schedule with plenty of interactive games.
Icebreaker games are definitely worth considering if your remote teams rarely interact outside of an email chain. If you want to add value to online lunch meetings, think about gamified learning and enriching presentations.
What are the norms around eating during a virtual lunch meeting?
If you're hosting an online lunch meeting, nobody has to be coy about eating in front of a camera. However, some basic etiquette should be observed. For one, noisy eaters should probably refrain from chewing with an active mic.
What's more, make sure you have at least one person speaking at any one time to avoid a situation where everyone's more engrossed with what's on their plate than with what's happening on-screen.
Plan a Virtual Lunch Meeting with Gloww Today
Ready to bring back the social element to online working and online business meetings? If your remote employees are craving casual conversation and interaction with their colleagues, it's time to make Gloww your go-to conferencing platform.
Our accessible platforms make connecting with co-workers easier than ever. From casual conversation over light lunches to more engaging sessions packed with interactive elements, this unbeatable conferencing solution has everything you need and more.
Looking to add value to the lunch hour with some learning? With Gloww, you can incorporate presentations, webinars, and other content that will enrich your employees and upskill them as they socialize. Browse our pricing plans or get started with Gloww today. Have questions? Send a message to the team via the online contact form.