Music can be a powerful tool for engaging employees. In a traditional workplace setting, music can improve focus, encourage creativity, and give your employees a major morale boost. However, even if you're operating virtually, you can tap into this potential with team building activities involving music. 
If you're planning a team building event and are short for ideas, look to the world of music for inspiration. From classic trivia questions to virtual talent contests, there are many ways to embrace the music world when it comes to remote team building. 
Are Music Team Building Activities Effective?
If you've struggled to engage remote teams during previous team building sessions, the problem was probably the activities you selected. When you're working virtually and need to bring remote employees out of their shells, music activities are the way to go. 
As well as making us generally happier, music brings people together. A team building session built around music will ensure everyone's thinking in sync, which is essential if your remote teams are struggling to communicate effectively.
What's more, music activities are one of the greatest ice breakers around. Unveiling a hidden talent and getting a positive reception from coworkers will give any employee an instant confidence boost. If you're keen to get your virtual team working together, you can base an entire team building event around music. Alternatively, use music-inspired activities to spice up weekly get-togethers before you move on to more serious business. 
10 Best Music-Infused Team Building Activities
Thinking about making your next event a musical one? You'll need plenty of musical team building activities planned. Need some pointers? We've got you covered.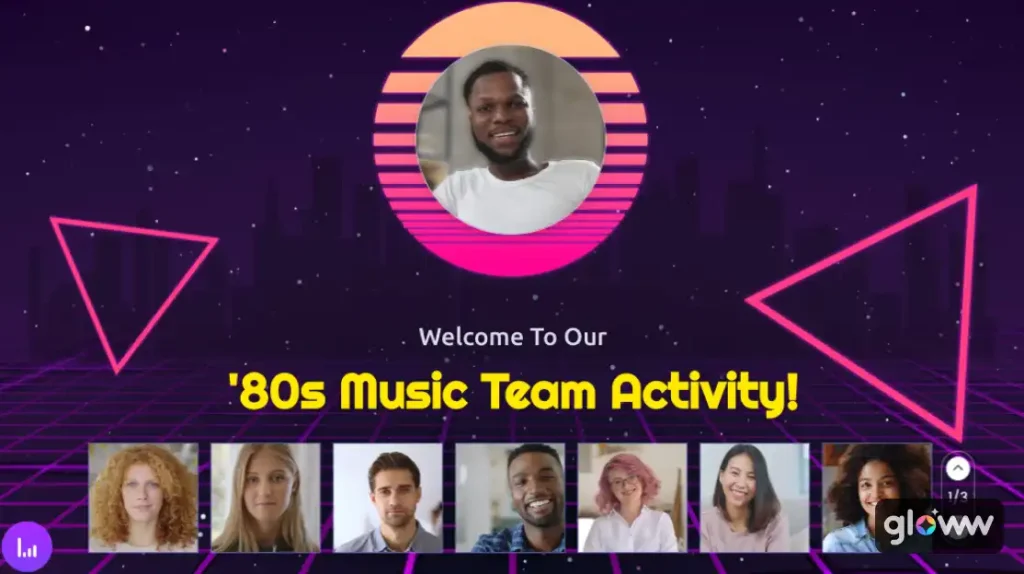 1. Kick Things Off with Virtual Karaoke
A staple of Christmas parties and annual get-togethers, you don't have to say goodbye to karaoke just because you're meeting online. Instead of reserving karaoke to the end of an online happy hour, use it as an effective team building exercise. It's the ideal icebreaker and is perfect for bringing quieter team members out of their shell.  
2. Make Your Team Meetings More Musical
Just because the meeting agenda is strictly business, doesn't mean you can't leave a little bit of room for fun at the start. Pencil in an extra minute at the start of a meeting for one of your team to share a snippet from their favorite track of all time. If Christmas is fast-approaching, you can use festive chartoppers or classic carols instead. To help break the ice, encourage participants to sing along if they know the lyrics. 
3. Name That Tune
Audio-based games are guaranteed to engage your employees. A tried and tested favorite is Name That Tune. Simply play a snippet of a famous song and get participants to buzz in with the answer. To make it easier for everyone, choose tracks from platinum selling artists and familiar hits. If you're keen to test musical knowledge of your teams, go for more obscure singers.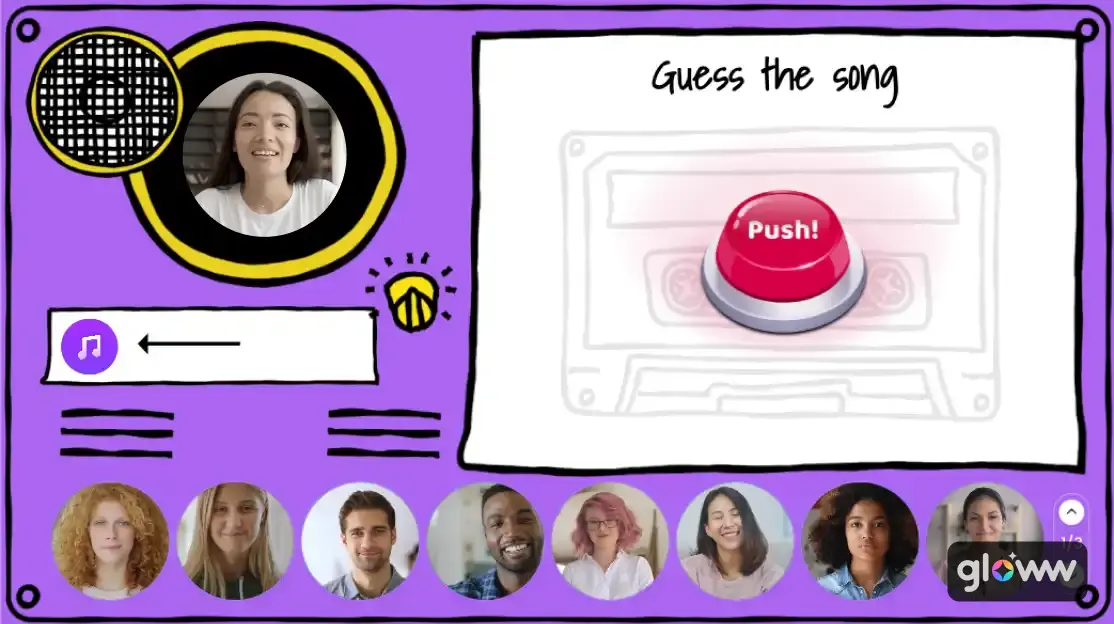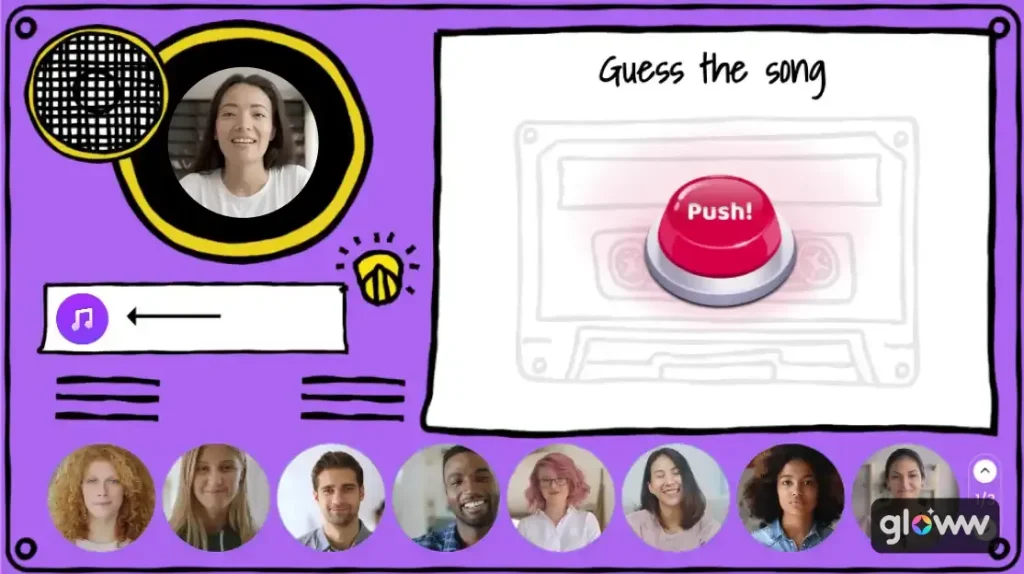 4. Guess the Lyrics
You might think you know your favorite song word-for-word, but there's a good chance you've been getting some of those lyrics wrong your entire life. This word-based twist on Name That Tune will find out how well participants have been paying attention to the radio. You can select a lyric snippet and ask participants to buzz in if they think they know which song it comes from. If you want to give employees more of a chance, use this one as the basis for a round of multiple-answer questions. 
5. Emoji Quiz
If Name That Tune and Guess the Lyric games are proving too easy, take things up a notch with the emoji quiz. Players take turns creating the name of their favorite song or a randomly-selected track in emoji form. Everyone else then has to decipher just what exactly is being referred to. 
6. Lip Sync Challenge
Even the most reserved members of a remote team are going to find it hard to resist a lip sync challenge. Here, even those not blessed in the singing department can give it their hall and unleash their inner rock god. To make this a group activity, put together a playlist packed with famous harmonies and pick teams to lip sync in tandem. 
7. Musical True or False
If you're looking to break away from basic trivia games, try a game of musical True or False instead. No matter how outlanding the red herrings are, everyone playing has a 50/50 shot at getting the answer right. Turn to the real names of musical artists, famous song meanings, and musical urban myths for inspiration. Once you've asked the question and revealed the answers, you can reel off some relevant trivia. 
8. Host a Virtual Talent Show
If your remote team is on the large side, there's a good chance at least a few of your employees have hidden musical talents. Use your next online get-together to host a virtual talent show or corporate song contest, giving participants the chance to perform. 
You'll want to encourage everyone to get involved. Some might be great with an acoustic guitar, but others won't have played any instrument since the recorder. It doesn't matter. If attendees don't have access to their own instruments, body percussion and DIY drum kits will do.
9. Guess the Album Cover
Someone might know the lyrics of a favorite song off by heart, but how well do they know album sleeves? For this activity, you'll need to select a stack of album covers, blurring out any visible artist names and album titles. 
Participants then have to guess the name of the title. To keep things rolling, set a time limit for each cover. You can stick with more recognizable sleeves if you like, but it's always good to throw a few obscure covers into the mix. If you don't want to use album covers, use music video stills instead.
10. Music Trivia
Here, you have a lot of scope. In fact, trivia questions can be based on just about anything musically related. Keep things simple by asking teams to name the year a song was released or what number it soared to in the charts. You can even split a longer trivia session into categories. Have an entire round based on famous number one singles, before moving onto classic musicals and movie soundtracks. 
FAQs
How can music enhance team collaboration and communication?
When people work online, it's easy for human interaction to get left by the wayside. By introducing musical activities to a team building experience, you're encouraging your employees to see each other on a more personal level. The more open your employees are, the better that they will communicate. This naturally results in a more productive team.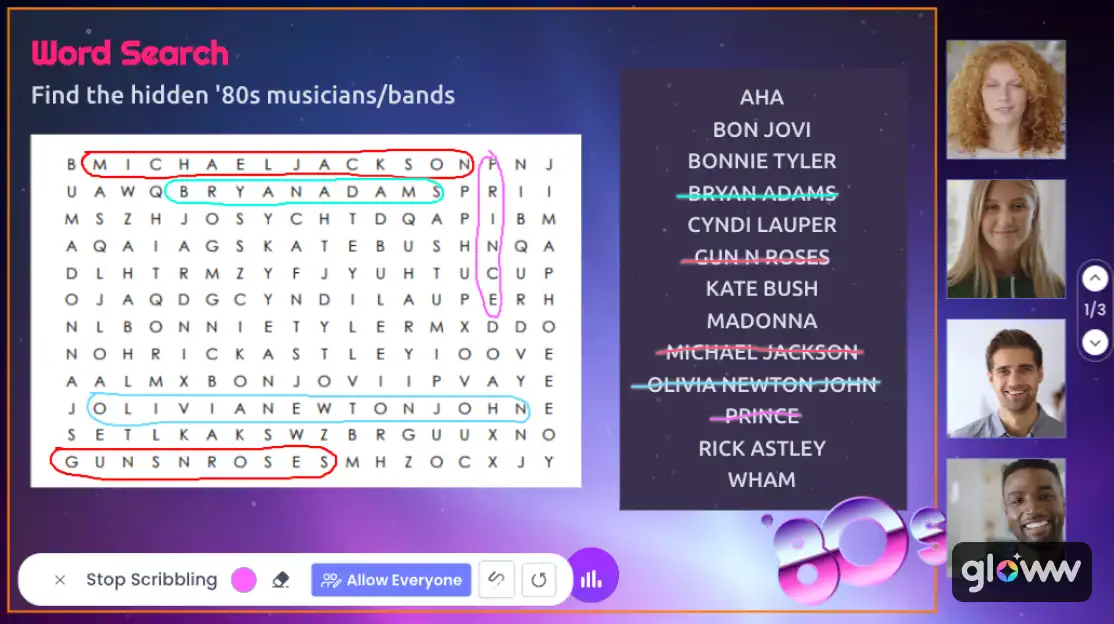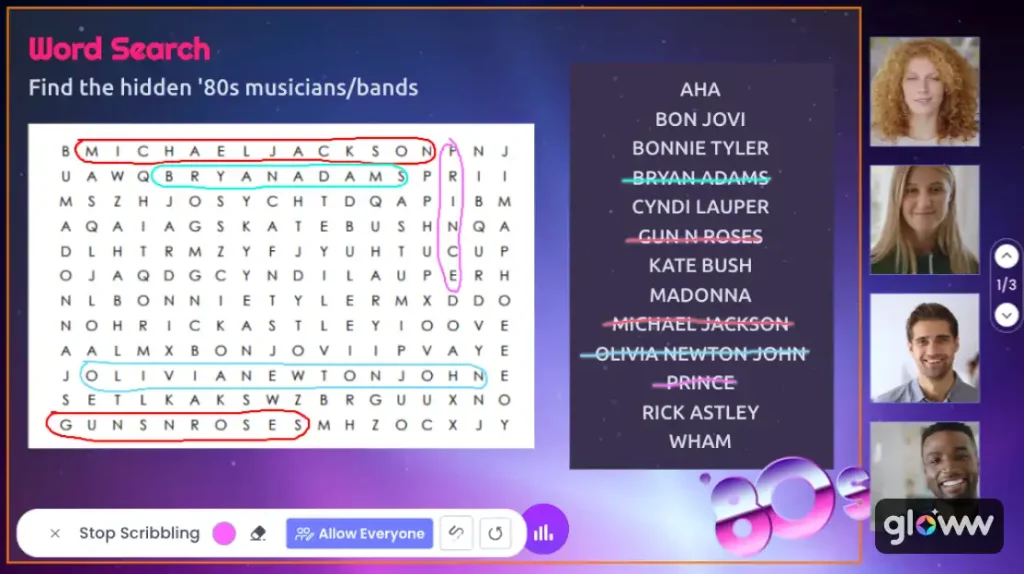 What preparation is required before conducting team building music activities?
This depends on the kinds of activities you have planned. Are you thinking of making time for a virtual talent show? If you want participants to perform, let them know ahead of time so they can source an instrument. If you're using a lot of visual and audio assets for question rounds and activities, it's also important to perform a test run of your event first. This way, you won't have to worry about any technical hiccups derailing a planned corporate team building activity.
Make Your Next Team Building Event a Musical One with Gloww
If your virtual team building sessions need a rethink, taking your inspiration from the musical world is a great idea. If previous team building games have failed to break the ice, watch any awkwardness thaw away when with a Name That Tune quiz, virtual karaoke session, or online talent show. Whatever activities you've got planned, it's never been easier to plan and host a memorable event thanks to Gloww. Choose a ready-made template such as 2000s music nostalgia, 90s music team activity, Disney team activity to make life easier, or create unique experiences from scratch. 
Do you already have an idea of what activities you want to include? You can get started planning your team building event with Gloww today. If you're looking to discover more about our advanced features, check out pricing plans. Wondering what else Gloww can do for you for business? Get in touch with the team today.
Looking for more fun articles on team building? Check out fun trivia questions for coworkers, how to host a great holiday party, fun virtual lunch ideas, virtual team building activities, all hands meeting ideas, cool virtual happy hour ideas, and much more on our Gloww blog.