Remote working is the new normal for many businesses. Even if your company has maintained a traditional office environment, video conferencing and virtual meetings are probably a daily occurance.
Whether you're reaching out to prospective clients or hosting onboarding for new hires, you need to think carefully when choosing a background for video call sessions. A professional-looking backdrop can be a dealbreaker when negotiating with potential customers, while a slick background can bring some formality to a remote-first company. 
Why Picking a Great Background is Important for Online Meetings
A good virtual background is a must if you're looking to make the right first impression. If you're reaching out to new customers or existing clients, virtual backgrounds create a professional image and present your brand in the best possible light. 
Virtual backgrounds are also useful for remote onboarding and important internal meetings, setting the tone for business-critical agendas. If your teams are working from home, virtual background images also help employees maintain a degree of privacy, creating a more formal digital workspace. 
Benefits of Using a Great Virtual Background
Just because you're using video conferencing tools, doesn't mean you can cut corners when it comes to meeting etiquette. Whether You're getting together with remote teams or making first contact with a potential client, choosing the right background image for your next virtual meeting is essential. 
Creativity and Personalization
If you're hosting an internal video conference with colleagues, you can have a little more fun with custom virtual backgrounds. If you're keen to bring people out of their shell, let employees express themselves with their choice of meeting background. Planning an online get-together to celebrate the holidays? Ditch the usual office backgrounds and use seasonal backdrops to liven up your virtual meetings and video conferences. 
Branding
Virtual backdrops can also help solidify your company branding. As well as being a pretty safe bet, using an office backdrop with your company name, logos, and colors ensures your messaging is on-point and creates a pitch-perfect professional image. 
Versatility
The best virtual backgrounds can be used for all manner of online meetings. Whether it's daily video calls with direct reports or a pitch meeting with new clients, a versatile office background will come in handy, time and again. 
Distraction Reduces
Remote work is filled with distractions. Unless your remote employees have access to a home office space, they'll probably be working from a cluttered dining table or living room. Using a virtual image or video background ensures these distractions are never going to steal focus away from your meeting agenda. 
11 Best Backgrounds for a Video Call
Looking for the perfect background for your next live video conference? Before you lock down a virtual backdrop, think about the nature of the meeting itself. Below are just a few ideas to get you started:
Team Building Activity Backgrounds
Team building sessions tend to be rather informal. As such, you can have fun when selecting virtual backgrounds. Keep it light with vibrant patterns and HD images, or keep things simple with your company colors and brand logos. Gloww has a selection of team-building background templates for you to consider.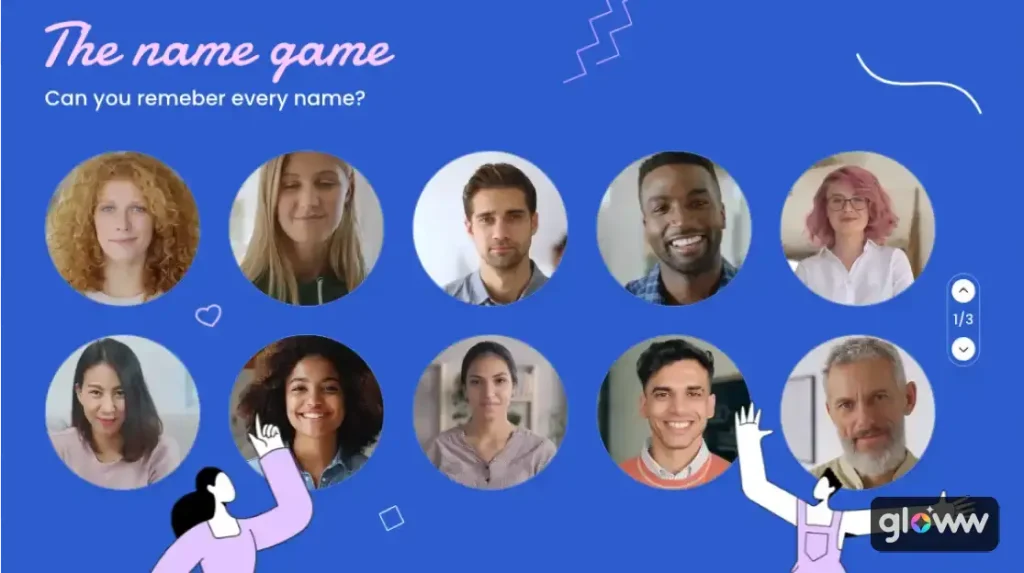 Learning Together Online Background
Planning some online training? Take your inspiration from your learning agenda when choosing an appropriate backdrop. If you want to keep everyone engaged, it's best to limit distractions. Therefore, go with basic colors and keep on-screen clutter to a minimum. Gloww's Learning Together Template brings you a clutter-free background with plenty of interactive live apps and tools. 
Quarterly Planning Background
A quarterly planning meeting is going to be fairly formal. Therefore, you'll want to keep things professional when selecting backdrops. Stick to simple colors if you're loading session slides with essential information. You can also image assets like quarter forecast graphs as a backdrop. At Gloww, you'll find a selection of standout quarterly planning templates to choose from.
Holiday Backgrounds
Getting together to celebrate the holidays? You're now free to get festive with seasonal backdrops. Whether it's the Fourth of July, Halloween, or Christmas, Gloww has plenty of seasonal templates for you to try. 
All-Hands Backgrounds
All-hands meetings need to feel inclusive. Your choice of backdrop can go a long way in encouraging everyone to contribute. Choose images that promote inclusivity and promote synergy. At Gloww, you'll find plenty of pared-back backdrops for all those all-hands meetings. 
Virtual Employee Onboarding Background
Getting virtual onboarding right is important if you want to get your employees off to a great start. Gloww's virtual employee onboarding templates keep things simple so you can strike the right note with new hires. 
Virtual Webinar Backgrounds
Great webinar backgrounds make all the difference. Whether you're looking for something lightwright and free of distractions, or something more colorful, you'll find plenty of options at Gloww for your virtual webinars. 
Virtual Product Sales Backgrounds
Looking to weigh up the competition and assess your sales performance? Gloww's product sales training templates keep everything on-point and eliminate distractions.
Online Trivia Backgrounds
Planning a trivia session with remote teams? Now's your chance to have some fun with backgrounds and templates. No matter what trivia subject you've singled out, you're bound to find the perfect backdrop in Gloww's extensive range of eye-catching templates. 
Virtual Presentation Maker Background
If a standard static backdrop won't do, go with an interactive presentation template instead. With Gloww's virtual presentation maker background, you can incorporate polls and questionnaires, click-and-play slides, embedded video content, and more. 
Music Team Activity Backgrounds
Looking to boost team morale and get everyone talking? An online music activity is the way to go. With Gloww's music team activity backdrops, it's easy to capture a sense of nostalgia. Loaded with interactivity and colorful on-screen elements, you'll have no trouble engaging every attendee.  
Taking Virtual Backgrounds to the Next Level
Gloww goes beyond traditional virtual backgrounds by offering a cutting-edge feature that allows hosts to seamlessly integrate PowerPoint presentations or video content as their background. Imagine stepping right into your slides or video, becoming an integral part of the content you're discussing! With Gloww, your background isn't just a backdrop – it becomes an immersive tool that enhances engagement and elevates your online interactions.
FAQs
What backgrounds should I use for a virtual interview?
When you're interviewing potential employees, it's important to make the right first impression. You can keep things simple with generic corporate scenes or take a branded approach with company colors and logos.
What about client calls?
Company branding is important when reaching out to clients. You'll also want to keep things simple and clutter-free to maintain professionalism.
Can I use a green screen for video conferencing?
Green screens can be effective at removing visual glitches when using a virtual background. If you're keen to make the best possible impression, investing in a green screen is something to consider.
Are there any free virtual backgrounds for video meetings?
Whether it's employee onboarding, trivia sessions with teams, or webinars, you'll find a huge selection of eye-catching virtual backdrops in Gloww's extensive library.
Say Goodbye to Boring Backdrops with Gloww
Keen to maintain a level of formality, even though you're working online? Whether it's a team-building session or a live webinar with potential clients, make sure you're thinking seriously about the virtual backdrops that you are using. 
With Gloww, it's easy to build on-brand experiences with drag and drop backgrounds. Keep it simple with company colors and brand logos, or make things more interesting with creative templates when you're hosting team-building activities or celebrating the holidays. 
You can get started with Gloww's ready-made templates or create your own from scratch today. Alternatively, take a look at our pricing plans to discover more about what our advanced features can do for your brand. Have we missed something? Feel free to get in touch with the team with any questions.